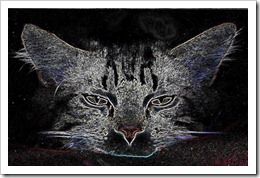 Welcome to Catville Glass Art located in Minot ND! Please feel free to check out all my glass art. Let me know if you see anything you like. I do custom artwork that can be personalized. Please email me with questions or if you would like to order anything: kit@catville.com. To view my work, click on one of the category links on the right. Thanks for stopping by!
Just this side of heaven is a place called Rainbow Bridge
Reclaimed end table with glass mosaic design and pet bed.
Pet bed has removable cover for easy cleaning.
Depth: 19"
Width: 21 ¾"
Height: 25"
Rainbow is Spectrum Iridescent Glass. Background is Spectrum Opalescent Glass.
Approximately 85 hours was devoted to the creation of this one of a kind table.
Each piece was individually shaped to fit. Grout sealed with Diamond-Crete sealer.
This mosaic table/pet bed was made for the live auction at the
Souris Valley Animal Shelter 2013 Gala.
next page »
About Me
I am a retired Master Sergeant from the United States Air Force. I retired 1 Feb 2001. It ...